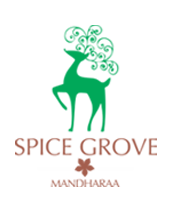 Spice grove
About Us
Situated beside the road to Munnar from Thekkady, in the hamlet of Anakkara, Spice Grove is a distinctively stylish hotel surrounded by spice plantations on three sides. Enter the property through a paved driveway flanked by manicured lawns. An elegant lobby furnished tastefully with wooden furniture and chrome accessories welcomes guests. Beside the front desk, on display are folk artefacts and natural produce. Elevators transport guests to their room.
The rooms are arrayed along pleasantly illuminated corridors, all of them furnished with spacious soft beds draped with fabrics in muted shades, sturdy wooden chairs and tables and provided with a small refrigerator, work spaces and private balconies with splendid views of the surrounding plantations.
Below, beside the lobby is the hotel's multi cuisine restaurant surrounded on three sides by large expanses of glass that look out a line of trees. A beer and wine parlour offers an eclectic range of libation to guests. Outdoor, in a corner of the lawn is a barbeque corner.
In a corner, behind the hotel, a paved courtyard leads to an open to the air swimming pool with changing rooms and deck chairs. On another end is a spa that offers traditional Ayurvedic cures along with international wellness and beauty treatments.
The trees all around come alive at the break of dawn with vividly plumed birds in song and late in the afternoon, drifting towards sunset a gentle breeze settles in. Warm smiles in greeting, the rustle of soft silk and crisp cotton as your hosts move about unobtrusively to cater to your needs – allow yourself to be seduced by Spice Grove – it is an experience of a lifetime.